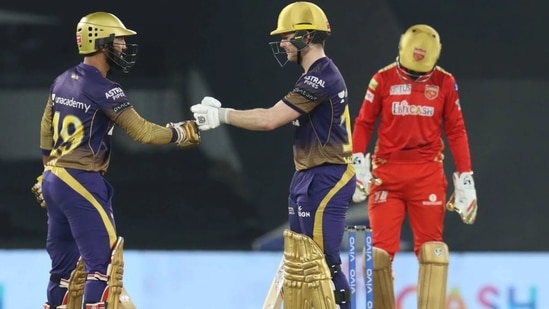 IPL 2021: Friends,Welcome To Simranblog!Today I'm writing about yesterday match review  was played between Kolkata Night Riders(KKR) vs Punjab Kings(PBKS) .Both Teams  In the 21st match of Indian Premier League (IPL) -14, Kolkata Knight Riders (KKR) defeated Punjab Kings (PBKS) by 5 wickets. KKR achieved the target of 124 runs by losing 5 wickets in 16.4 overs
Kolkata Knight Riders have won only one of the five matches so far, on the other hand, the Punjab Kings have won two of the five matches.
In the 21st match of the Indian Premium People's IPL-14, Kolkata Riders KKR defeated the Punjab Kings by 5 wickets! KKR won the toss and offered Punjab to bat first! Punjab, captained by KL RAHUL, gave 4 wickets in 20 overs. KKR ne 124 runs scored! KKR ne 124 runs target 14. Achieved by losing 5 wickets in overs! KKR got this win after 4 consecutive matches! KKR at 5th position and Punjab at number six.
Chasing the target, the Northern KKR did not start well, the team lost their 3 wickets for only 14 runs.Nitin Rana(0)Shubmann Gill(9)Sunil Naren(0)After this, skipper Eyon took over the team by Eoin Morgan (47 *) and Rahul Tripathi (41) adding 66 runs for the fourth wicket. players who have done consistently well on behalf of the team.
Also Read PBKS vs KKR IPL 2021: Today's match between Punjab and Kolkata, both of them can be playing XI
SRH vs DC IPL 2021: Delhi Capitals won in Super Over, Hyderabad got fourth consecutive defeat
FACEBOOK: https://www.facebook.com/Simran-blog-107271138134394